It's a program I written last semester for the experiment of 'γ Spectrum with NaI(Tl) Crystal'.
The lab's computer using a dos program process and visualize the data, but it cannot work with win XP or later version due to the pure dos environment which they do not support. And, the data of the machine was stored in binary, so it's pretty inconvenient to do the data analyze, especially when there's more than a dozen of the files. So, I decided to program a tool to simplify the way to do it. And here it is: UMS data processor.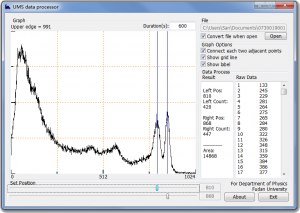 I think it's pretty easy to use it. First, open the file you need to process by clicking the open button up right, and then if the file is OK, you should see the graph in the main window. The Upper edge indicates the max value of Y-axis.
There're some Graph Options up right, you can try those to help you reading the graph.
There also 2 slider bars right under the graph which you can move to change the position of these 2 lines in the graph. And in the Result regain, you can see the position and the count of those 2 lines. In addition, the area between those 2 lines will be calculated and showed.
Raw data will be given by the text box in the right, in case you want to directly read them.
That's pretty much everything…so far…
Oh right, the download link…
Update: now source code is available on the Github: https://github.com/zhujunsan/UMS-data-processor